We propose a novel method for reconstructing HDR images from low dynamic range (LDR) input images, by estimating missing information in bright image parts, such as highlights, lost due to saturation of the camera sensor. We base our approach on a fully convolutional neural network (CNN) design in the form of a hybrid dynamic range autoencoder: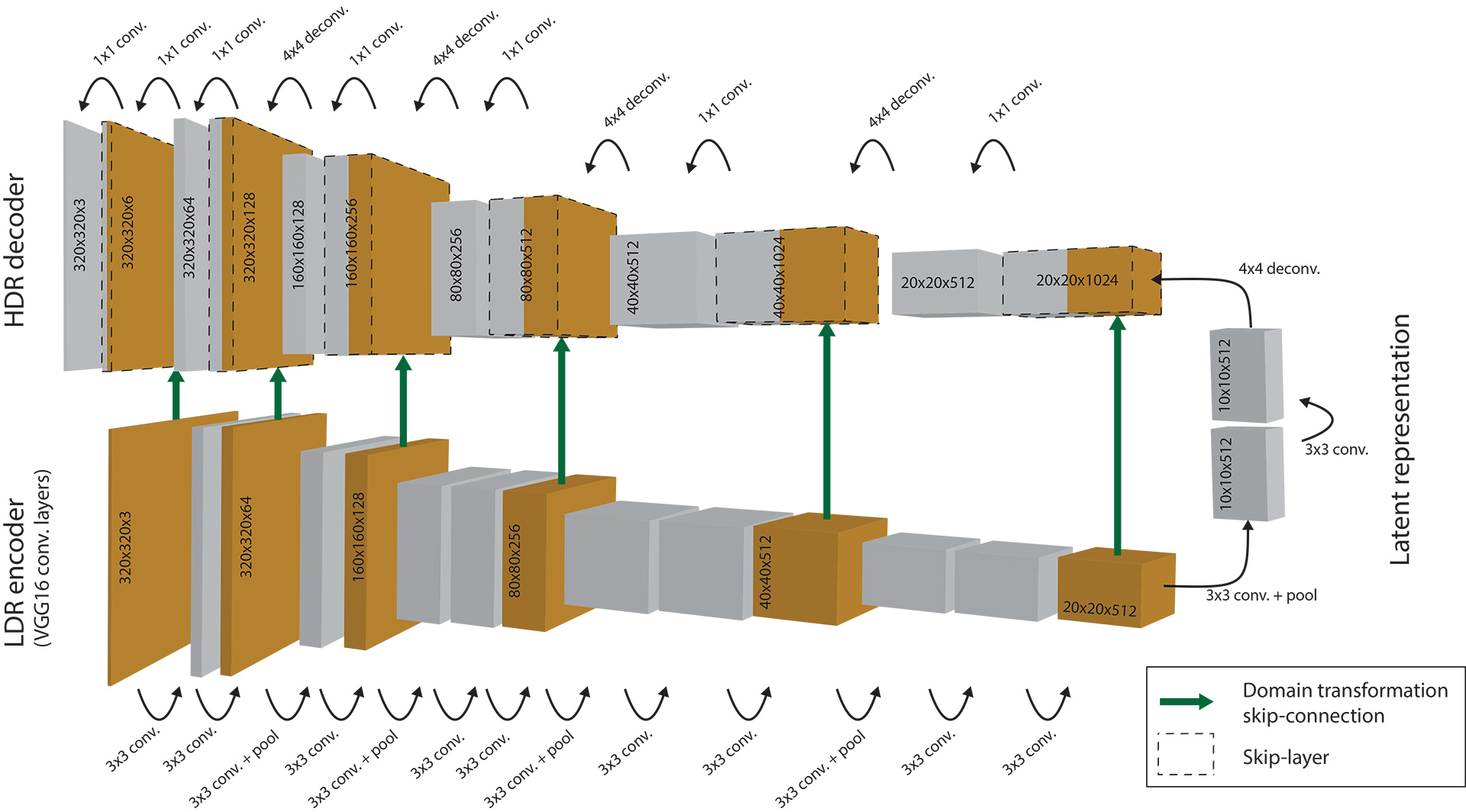 For training, we first gather data from a large set of existing HDR image sources in order to create a training dataset. For each HDR image we then simulate a set of corresponding LDR exposures using a virtual camera model. The network weights are optimized over the dataset by minimizing a custom HDR loss function. As the amount of available HDR content is still limited we utilize transfer-learning, where the weights are pre-trained on a large set of simulated HDR images, created from a subset of the MIT Places database.
Expansion of LDR images for HDR applications is commonly referred to as inverse tone-mapping (iTM). Most existing inverse tone-mapping operators (iTMOs) are not very successful in reconstruction of saturated pixels. They focus on boosting the dynamic range to look plausible on an HDR display, or to produce rough estimates needed for image based lighting (IBL). The proposed method demonstrates a step improvement in the quality of reconstruction, in which the structures and shapes in the saturated regions are recovered. It offers a range of new applications, such as exposure correction, tone-mapping, or glare simulation.
For details on the method, we refer to the paper. Additional results are also available in the supplementary document. The complete testset with reconstructions is also provided. In order to perform reconstruction of arbitrary LDR images, souce code can be found on GitHub. All the downloads are listed below.